Guiding Arlington Thrive Towards a Brighter Future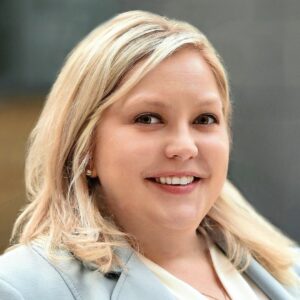 Here at Arlington Thrive, we are always excited to welcome new members to our team who share our passion for empowering individuals and fostering community resilience. Today, we have the pleasure of introducing you to our new Executive Director, Melanie Anderson, who will join us officially on October 16th. With her wealth of experience and dedication, Melanie is set to lead Arlington Thrive towards a brighter future, maximizing our positive impact on the lives of individuals and families facing economic hardship in our community.
Melanie Anderson brings over two decades of leadership in prominent national mission-driven nonprofits to her role as Executive Director of Arlington Thrive. Currently serving as the Executive Vice-President of the National Association of Workforce Boards, Melanie's professional journey has included significant roles such as Director of Government and External Affairs at Opportunity Nation. These roles have not only deepened her understanding of the profound impact of community-driven initiatives but have also fueled her desire to forge direct connections with communities and the critical, grassroots work unfolding daily.
Throughout her career, Melanie has excelled in guiding organizations through pivotal phases of growth and transformation, consistently delivering meaningful outcomes. Her expertise and commitment to empowering individuals align seamlessly with our organization's mission and values, positioning her to lead Arlington Thrive into a future of even greater impact and success.
Moreover, Melanie is a leader who understands that collaboration and community engagement are critical to delivering on Thrive's mission. She is committed to fostering open and inclusive dialogue with our diverse community stakeholders. She is particularly eager to listen to our community and learn from their insights. Under Melanie's inclusive leadership, we are confident we will continue to support the diversity, stability, and vibrancy of Arlington.
We are grateful for your support, which allowed us to deliver $7 million in financial assistance to neighbors confronting financial crises in FY23. You make our work possible and inspire us to greater heights. Please join us in welcoming Melanie to Arlington Thrive.