One of the Most Powerful Ways to Support Our Work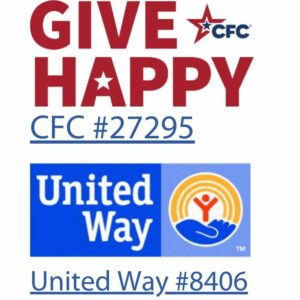 We are deeply grateful for the many ways you contribute to our work, and that's why we want you to know about an easy, powerful way you can support us– through workplace giving. Arlington Thrive is proud to be a member of the United Way of the National Capital Region, a nonprofit organization that facilitates our participation in hundreds of public and private sector workplace giving programs, giving donors like you the opportunity to support us from where you work. Because workplace giving is one of the easiest, most cost-effective ways to support Arlington Thrive's mission, it enables us to maximize the impact your donation makes.
Benefits of Giving Where You Work
Workplace giving allows you to make automated tax-deductible gifts through weekly,
monthly, or bi-monthly payroll deductions, which makes it:
Easy: You can support us along with your other favorite charities from one platform, pledge different amounts to each charity, and have all of your donations automatically deducted from your paycheck. This also makes it easy to keep track of your donation information for tax season.
Practical: A small percentage of your paycheck can make a major difference in providing emergency funds and critical wraparound services to local families confronting financial crises. Giving through payroll deduction enables you to pledge a large amount of money once a year, while having that contribution divided into small increments that get deducted from your paycheck and distributed to us throughout the year. And, since we'll know how much money you have pledged, we can plan and use your donation more strategically to make a greater impact.
Empowering: Workplace giving empowers you and Arlington Thrive! Money donated through workplace giving provides us with "unrestricted funds," which means we have flexibility to spend the money on the programs and day-to-day
operations that will best enable us to fulfill our mission.
This past year, your generosity enabled us to:
Keep 1,781 families in their homes, preventing homelessness and providing stability for countless individuals;
Prevent utility disconnections for 554 families, ensuring that they can continue to enjoy the warmth and light that every home deserves;
Address urgent medical needs for 251 neighbors, offering a lifeline to those in critical situations; and
Facilitate affordable childcare for 38 families struggling to balance the demands of work and family.
None of this would have happened without your support! We encourage you to learn more about supporting us through workplace giving via your employer's United Way or Combined Federal Campaign.