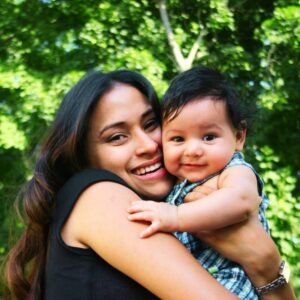 The face of inequality in Arlington often remains hidden behind the glittering facade of the rapidly urbanizing and affluent community we call home. Rosanna, a 25-year-old neighbor, is one of these faces. Her experiences demonstrate the human cost of income inadequacy that a recent report by the Northern Virginia Community Foundation has brought to light. However, her journey is also a poignant testament to the indispensable role played by Arlington Thrive and its community safety net partners, like the Arlington Free Clinic (AFC).
A Fearful First Step
Rosanna's path to the Arlington Free Clinic was marked by trepidation and anxiety. She was referred for dental care by her AFC volunteer doctor, and the prospect of visiting a dentist filled her with dread. Her dental anxiety had deep roots, stemming from a traumatic experience. She had never been to a real dentist due to a lack of resources and dental insurance. Unfortunately, in her desperation, she resorted to seeking the services of an unqualified community member posing as a dentist. This impersonator's attempt to extract her teeth resulted in a severe gum infection and a dire need for extensive root canal therapy.
A Caring and Compassionate Team
Rosanna's story took a heartwarming turn when she met the AFC dental team. They recognized the significance of providing not only exceptional dental care but also emotional support to address her deeply rooted fear. Hence, they collaborated with the clinic's Behavioral Health Program Manager, paving the way for Rosanna's recovery.
The dental team devised creative strategies to support and calm Rosanna during her visits. They honored her preferred appointment time, scheduling longer visits to ensure she had ample time for breaks and questions. To alleviate her anxiety, they ensured that one of AFC's dental assistants was by her side throughout the procedure, offering a reassuring presence during this challenging time.
Financial Hurdles and a Lifeline of Hope
The road to recovery was not without its financial challenges. The extensive dental work required to resolve her infection and preserve her damaged teeth entailed several visits and crowns, which came at a cost exceeding $500. At this point, Rosanna's job hours had been reduced for the season, leaving her budget too stretched to afford this essential care.  When Rosanna learned of the financial assistance provided by Arlington Thrive, she was elated and relieved. With this support, she was able to complete her treatment plan and was left with a renewed sense of hope for her future.
In Rosanna's Own Words
Speaking about her experience, Rosanna said, "The caring dental team at AFC and the financial support from Arlington Thrive saved my smile. I'm grateful beyond words."
Sadly, Rosanna's story is not an isolated incident. It is a reflection of the many individuals in Arlington who are confronted with the harsh realities of income inadequacy every day. Thanks to your support, Arlington Thrive is able to collaborate with community safety net partners like the Arlington Free Clinic (AFC) to transform lives and provide hope to neighbors like Rosanna.
Your generous contributions allow us to make a difference in the lives of neighbors like Rosanna and work towards a more equitable community where no one has to face such challenges alone.