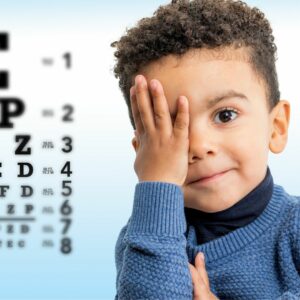 Did you know that vision plays a crucial role in academic success? It's not just about studying hard, but also about ensuring that the eyes are functioning optimally before jumping into the material.
At Arlington Thrive, we believe every student deserves the chance to succeed in their academic pursuits. There is a strong relationship between vision health and academic achievement and we believe that by ensuring healthy vision among children, we can ensure their ability to succeed academically.
The Importance of Vision in Academic Success:
Reading, writing, and comprehension are all fundamental pillars of learning, and to maintain healthy vision, all senses must work together.  Research indicates that over 60% of students with reading difficulties have an underlying vision problem, making the connection between vision and academic success clear. An undiagnosed eye problem can wreak havoc on a child's academic success. Poor vision can lead to frequent headaches, fatigue, and discomfort, exacerbating academic performance over time.
Vision Screening and Intervention:
Regular eye exams are essential to ensure children's academic success and should start at six months. Identifying vision problems early prevents degeneration and supports children's success.
Eye health is all too often overlooked in discussions if academic success. By raising awareness about the connection between vision and academic achievement, we hope to improve children's access to vision support that can drastically improve their academic performance.
Take action today to protect your child's vision and schedule a vision screening or donate to Arlington Thrive's Eyes on Education fund, which provides eye exams and glasses for low-income families in Arlington. With your help, we can give all students a chance to succeed in their academic pursuits.