Inequality in Northern Virginia
Are you aware of the harsh realities faced by many of our neighbors? In South Arlington alone, a staggering 52% of residents are unable to afford basic necessities such as food, shelter, and childcare. We cannot turn a blind eye to this stark inequality.
Introducing "Getting By: Inequality in Northern Virginia," a campaign that aims to shed light on the devastating struggles faced by many in our community. Our objective is simple - to raise awareness of the challenges they face and inspire action to address income inadequacy head-on.
According to a recent report by the Community Foundation for Northern Virginia, nearly 30% of families in the region are coping with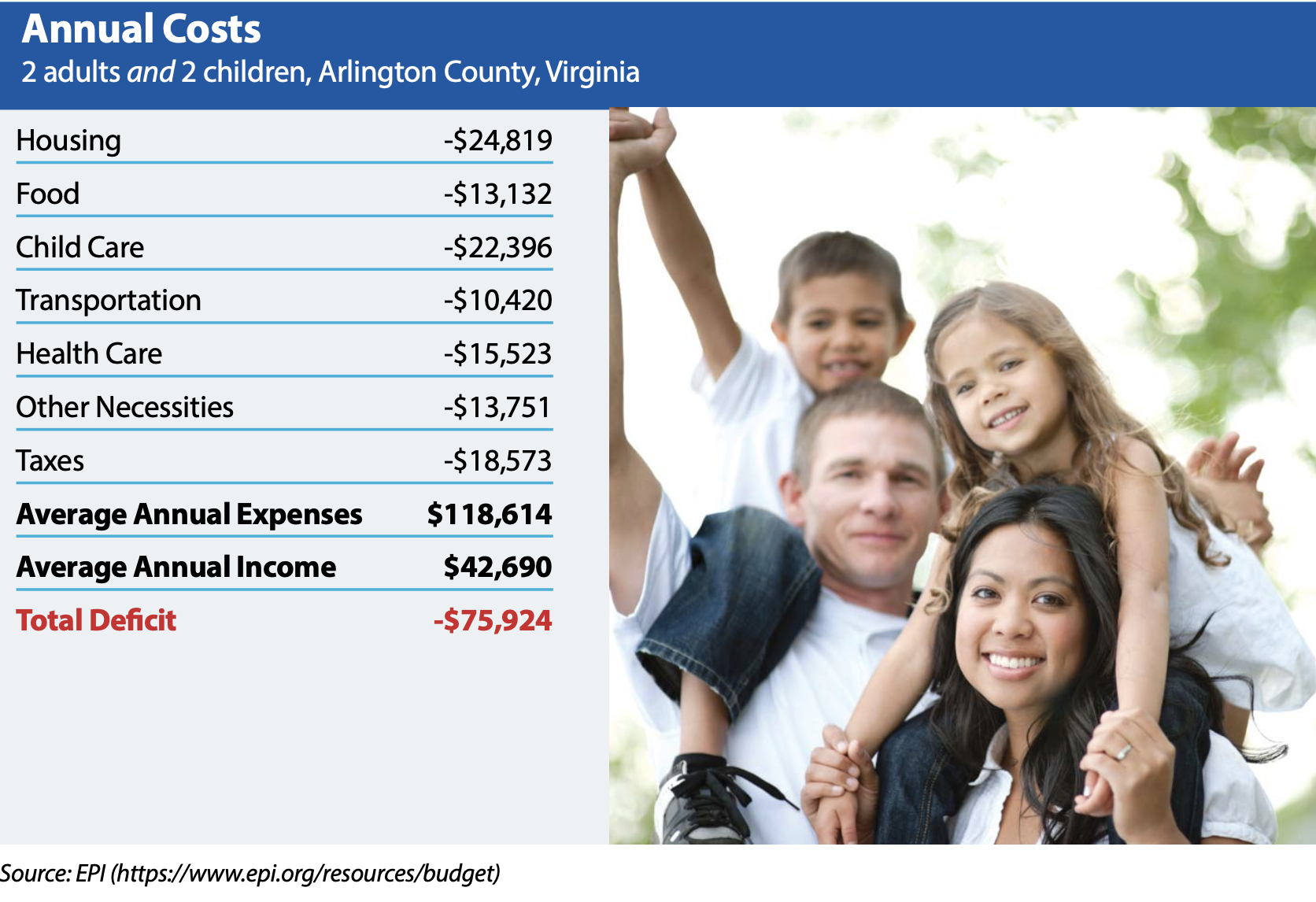 income inadequacy. Families in Alexandria, South Arlington, Manassas, Manassas Park, Falls Church, and Fairfax (Annandale-Bailey's Crossroads) are particularly affected, with over 30% unable to meet their basic needs. The situation is even more dire for families of Black or Hispanic backgrounds, those without a bachelor's degree, and individuals working in food service, construction, personal care, and grounds or building work.
At Arlington Thrive, we are committed to making a difference. Through emergency funds and the services of our Community Navigator and Childcare Coordinator, we provide critical assistance to neighbors confronting financial crises. By offering them a lifeline during their time of need, we prevent homelessness and ensure that no one has to go without the basic necessities that many of us take for granted.
Your support is vital. Together, we can make a significant impact on the lives of those struggling with income inadequacy in Northern Virginia. By supporting this campaign, you not only help us raise awareness but also contribute to providing emergency funds for neighbors in crisis.
Follow our blog posts, and social media feeds to learn more about the magnitude of the need and how you can join us in creating a community that cares and works for everyone. Your compassionate contributions bring hope, stability, and opportunities to those who need them the most.
Donate now by texting WHYWETHRIVE to 53-555 or click here.
Ready to Learn More?
Sign up for news and updates from Arlington Thrive and stay informed about how you can help us have a positive impact in the lives of those in need.
Contact Us
Arlington Thrive is the only source of same-day emergency funds in Arlington, preventing even greater long-term economic instability that further stresses our public health, housing, and social systems. For more information, please visit our Contact page.